Winter 2018

Tool & Equipment Buyer's Guide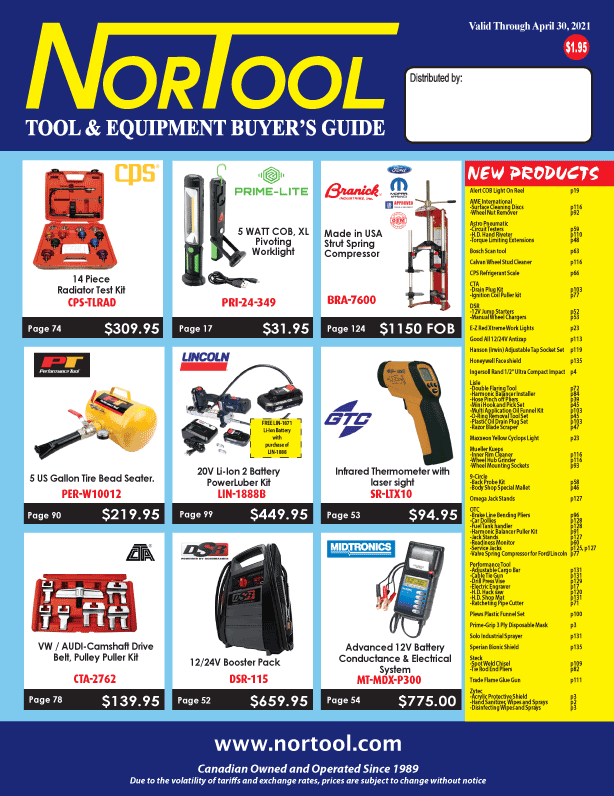 Download PDF of our Catalog to your desktop!
Featuring: Ingersoll Rand 1" D-Handle Impact Wrench, Kentool Rust Hog Hub Cleaning Tool, Aircat 1" Impact with 8" extended anvil, DSR Schumacher Pro Series Jump Starters, Fluke UV Leak Detection Light, GearWrench Brass Non-Sparking Sledge Hammer, Sledge Head Dead Blow Hammers, Lang Quick Switch Internal External Snap Ring Pliers, Midtronics Battery Diagnostic Service System, 9 Circle Large Flex Funnel, Pro-Grade Oil Filter Wrench Set and Sway Bar Link Plier, Cal-Van Adjustable Bearing Race & Seal Driver, CP 1" Impact wrench Combo, CPS A/C Dye Injection Kit, CPS A/C Oil Injection Kit, CPS CarSmart A/C Inspector, Maxxeon High-Performance Rchargeable Headlamp, Primelite Triple Panel Folding Floodlight with Tripod Stand, Titan Long Nose Locking Pliers, Alert HD Industrial Reels, Tracerline OPTI-Lite/Syringe Starter Kit and Much More!
Welcome to the Nortool family.
Nortool, a leading Canadian Tool and Equipment wholesale distributor, serving the Automotive, Industrial and Heavy Duty markets Coast to Coast.
As Third Generation Tool and Equipment Professionals, we are proud of our record of prompt personalized service, technical know-how and large selection of professional quality tools and equipment.
We look forward to servicing all your Tool and Equipment needs.
Auto-Force is a division of Nortool Inc.

Contact us:

Tel: 416-667-1083

Email: Sales@Nortool.com

438 Limestone Crescent
Toronto, Ontario,
M3J 2S4